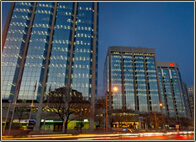 Mujae is a privately owned luxury clothing brand, specializing in luxury shirts and outerwear. The Mujae brand
was very exclusive and discreet for select clientele, within the music industry and various CEO's of fortune 500 companies
worldwide. The brand has recently entered the ready to wear market after creating exclusive designs for select clientele
worldwide. Montreal, Italy, Toronto and New York designed; Mujae is a luxury lifestyle brand, focused on creating innovative
design trends with mass appeal. Mujae is the first menswear brand to introduce, complete inner and outer silk cuffs for
men's formal high thread cotton shirts. The Mujae signature design theme consists of using, 100% silk charmeuse and also
silk velvet as the contrast fabric for many Mujae shirt styles. The cotton fabrics used for each shirt has been handpicked and
sourced from some of the finest mills throughout Europe.
The Mujae brand appeals to men of honor, men who are well respected amongst their peers. It is a brand that caters to
those who live by a code of ethics in life. A set of rules that one lives by day to day. From CEO's of fortune 500 companies to
young entrepreneurs; all who wear Mujae truly make a powerful statement.
The Mujae group is active in the following sectors:
• Fashion garments
• Music production & music publishing
• Digital creative development